CPD-certified electrical cable training
As the people known for being the technical experts in the cable industry, training, educating and advising people on cable matters is at the core of everything we do. The same technical team responsible for the training of Eland Cables' staff and for advising our customers is CPD-certified to provide a number of courses and training programmes covering a range of subjects. We also offer training days tailored to our audiences' specific level of technical knowledge and required learning outcomes.
CPD-certified cable courses
The Continuing Professional Development (CPD) certification services is a global professional body offering training across a broad range of roles and industries. As a CPD-certified cable training provider, Eland Cables has been formally recognised as offering electrical cable education of the highest standard. The training is provided by our in-house technical experts and can be delivered in one of our facility's training rooms with hands-on exposure to cable and cable testing facilities, through online webinars, or offsite where required. In addition to a personalised training pack, each attendee is presented with a certificate of attendance and a CPD log.
Our CPD-certified cable training programmes include:
Introduction to Cable Manufacturing (certificate A000022)
This course provides an overview of the cable manufacturing process, covering cable construction and the processes involved in producing each element. It provides an appreciation of the manufacturing processes for conductors, insulation, laying up, bedding, taping, braiding, armouring and sheathing.
Introduction to Cable Testing (certificate A000023)
This course covers standard cable tests and their requirements, including routine, sample and type tests. It aims to provide an understanding of the various tests to assess cable construction, electrical characteristics, and mechanical properties.
Introduction to Fire Resistant Cables (certificate A000020)
This course offers an overview of fire resistant cable technology and helps understand the difference between fire resistant and fire retardant, and between Low Smoke Zero Halogen (LSZH) and Low Smoke and Fume (LSF). It explores the dangers of PVC in fire conditions, and the benefits of LSZH materials. The participants then consider market trends and material developments.
Introduction to Fire Resistant Cable Standards (certificate A000021)
This course introduces the participants to fire resistant cable standards, providing an understanding of the various fire resistance tests required and how these relate to fire conditions. It covers the difference between manufacturing standards and codes of practice, and cable selection based on test criteria. This course also covers third-party approvals including LPCB.
Introduction to Medium Voltage Cables (certificate A003735)
This course is designed to teach participants about all aspects of medium voltage cables from their construction to their application. The course provides a brief an overview of basic electrical concepts such as voltage, current, frequency and earthing, before detailing manufacturing techniques, why construction varies depending on the electrical and mechanical requirements of the application, and common British and international MV cable standards and specifications. Finally, there is the option to look at the UK's Distribution Network Operators, the geographic landscape, and each DNOs own requirements for MV power connections to their part of the grid.
Introduction to Network Rail Cables (certificate A005617)
This course is designed to teach participants about the four Network Rail cable groups - Signalling, Power, Telecoms and Overhead Line. It provides an understanding of the principles of electrified lines, and looks at the wide variety of cables used across the network
Introduction to Construction Products Regulation (CPR) for cables (certificate A010638)
This course covers Construction Products Regulation (CPR), a relatively complex piece of legislation which has been in force across Europe since 1st July 2017 on cables used in fixed installations in construction projects. It provides an overview of the legislation, the requirements for compliance across supply chains, the applicable tests and explains the various CPR classifications. The course details the requirements for CE labelling and the Declaration of Performance (DoP) and how to understand and interpret the information they contain. Guidance is provided on CPR classifications for various products and materials, aligned with an overview of UK and European best practices and formal requirements. Supply chain responsibilities are also addressed before closing with an overview of pending legislation for fire resistant cables.
Tailored cable training programmes
Our tailored cable training programmes are prepared and delivered according to the audience's desired learning outcomes and takes into account the participants' existing cable knowledge and position. Usually, organisations send between 5 to 10 delegates to our training facilities for 1 to 3 days to acquire general knowledge about cable, however we can also run smaller classes for an individual or small group requiring expert knowledge on a specific topic.
Testimonials
Eland Cables' training programme provided an essential understanding of the processes and best practices covering cable manufacturing, supply logistics and specific live applications. The information was presented in a clear and engaging way by their cable experts, with demonstrations and opportunities for hands-on experience to really reinforce what we were learning. Everyone came away from this valuable training session confident and eager to apply this newly acquired knowledge."

Back to top
Call Sales on +44 (0)20 7241 8787
Click to Email Us We will reply within 3 hours
Technical Hotline +44 (0)20 7241 8500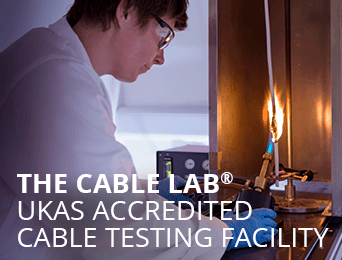 The Cable Lab®
UKAS-accredited specialist cable testing laboratory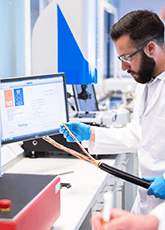 The Cable Lab® our in-house cable testing facility, is UKAS-accredited to ISO 17025, which is the single most important standard for calibration and testing laboratories around the world. Accreditation to this international standard demonstrates our laboratory's technical competence and the accuracy of its results.
For our customers, it means peace of mind. They can have full confidence in the quality of our products and can demonstrate due diligence in selecting their cable supplier.
Our customers can also rely on the Cable Lab's services for an independent, objective and comprehensive quality assessment of cables procured from third parties.

About Eland Cables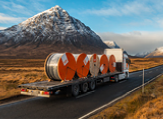 Established in 1975, Eland Cables is a supplier of power, data, instrumentation and control cables and cable accessories to the world's most demanding industries and to some of its most prestigious projects. Our reputation is built on an unswerving focus on quality, technical expertise and customer service.

Quality
Our focus on quality has resulted in our in-house specialist cable testing facility securing the ISO 17025 accreditation. This certifies the competence, impartiality and performance capability of our laboratory and its evaluations. In turn, it means peace of mind for our customers with regard to the quality of the cables they source from us.

Expert tecHnical support
Our highly-qualified technical team is on hand to provide technical support with all aspects of cable selection, technical specification, regulatory requirements, and bespoke cable design and manufacture.

Complete Cable Solutions
We are a key contributor to projects in over 100 countries every year, adding value through comprehensive technical support, reliable logistics, innovative solutions, and a customer-centric approach.