FAQ: What are the benefits of MDPE insulated cables?
MDPE stands for medium density polyethylene. This material is used principally as a sheathing material on larger size cables with higher voltage ratings, such as our BS6622 11kV MDPE sheathed cable.
Polyethylene materials all have excellent insulation resistance, dielectric strength, low dissipation factors, and abrasion resistance. They are classified by their density which is associated with the crystallinity levels of the polyethylene.  The higher the crystallinity or density, the greater the toughness of the cable sheath.
Why use MDPE cables
MDPE has very high resistance to abrasion: it is extremely hard and has a low dielectric constant with superior oxidation resistance. The hardness of the MDPE cable sheathing protects the cable from sharp objects dropped or loaded onto the cable. This means MDPE finds particular usage in transmission cables in the toughest of environments, notably those with the high ambient temperatures found in tropical and subtropical countries. At these high ambient temperatures alternative sheathing materials such as PVC would be soft and prone to damage easily during laying of the cables. When compared with LDPE (low density polyethylene) it has significantly more strength enabling it to be pulled under heavy load for cabling applications, whilst compared to HDPE (high density polyethylene) it has improved resistance to cracking.
Various additives can be applied to MDPE compounds to improve fire retardant properties, UV and weathering resistance and the chemical degradation.

The Cable Lab®
UKAS-accredited specialist cable testing laboratory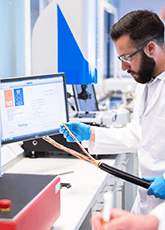 The Cable Lab® our in-house cable testing facility, is UKAS-accredited to ISO 17025, which is the single most important standard for calibration and testing laboratories around the world. Accreditation to this international standard demonstrates our laboratory's technical competence and the accuracy of its results.
For our customers, it means peace of mind. They can have full confidence in the quality of our products and can demonstrate due diligence in selecting their cable supplier.
Our customers can also rely on the Cable Lab's services for an independent, objective and comprehensive quality assessment of cables procured from third parties.
About Eland Cables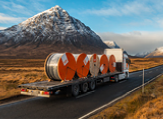 Established in 1975, Eland Cables is a supplier of power, data, instrumentation and control cables and cable accessories to the world's most demanding industries and to some of its most prestigious projects. Our reputation is built on an unswerving focus on quality, technical expertise and customer service.

Quality
Our focus on quality has resulted in our in-house specialist cable testing facility securing the ISO 17025 accreditation. This certifies the competence, impartiality and performance capability of our laboratory and its evaluations. In turn, it means peace of mind for our customers with regard to the quality of the cables they source from us.

Expert tecHnical support
Our highly-qualified technical team is on hand to provide technical support with all aspects of cable selection, technical specification, regulatory requirements, and bespoke cable design and manufacture.

Complete Cable Solutions
We are a key contributor to projects in over 100 countries every year, adding value through comprehensive technical support, reliable logistics, innovative solutions, and a customer-centric approach.